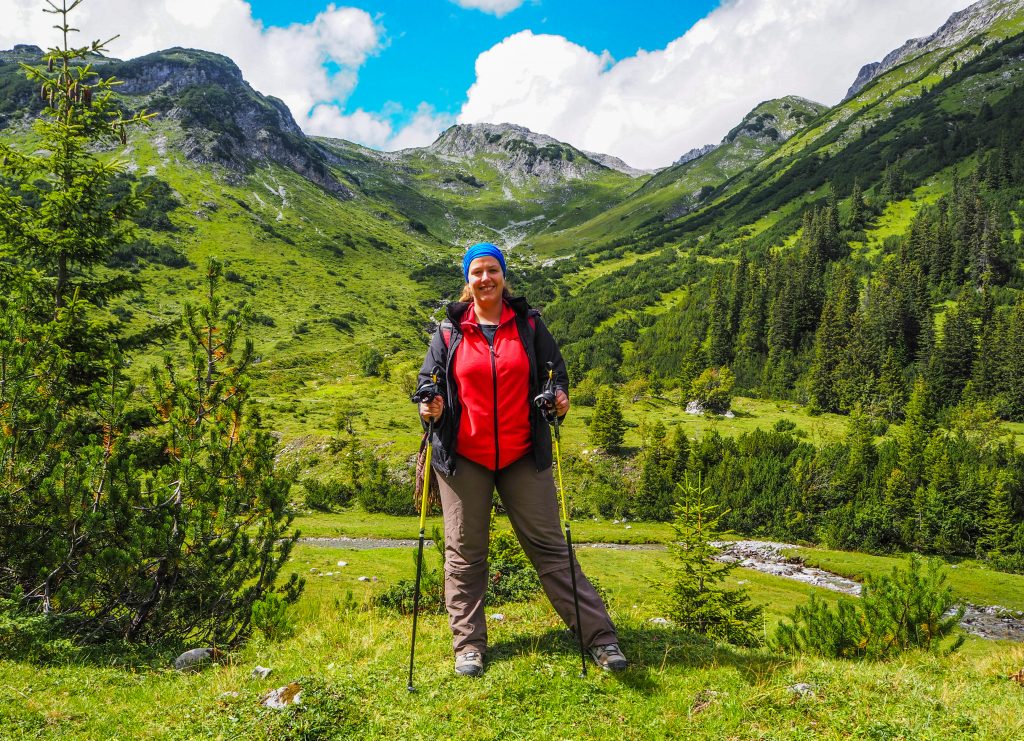 We go to the Freiberger Hut Hütte that evening and the hike to get there is quite simple, with a small drop, but nothing more. It's also very well signposted and you can do it for yourself. This hike is actually the first leg of the famous Lechweg and is located in a national park. Another advantage for small walkers, a bus runs on a road near this hike and others also. You can take it for a while, get close or even close to the refuge and its lake. The road is only accessible for this bus, for local farmers or for tourists paying a fee to enter the National Park, but it is very quiet.
We take the path and the guide explains many anecdotes and interesting facts about the history of the region, the fauna and flora. She knows the area well and is in love with her area. We quickly understand why. Our steps lead us quickly to the lunch we will take at Gasthaus Alpele. The place has been completely restored and was founded more than 300 years ago. The place is charming, traditional and popular and I feel that we will feel good. I can not help but choose Käsespätzle, the homemade pasta with cheese and onions that Sarah taught me to cook and that I sometimes cook while traveling. They are delicious and melting to perfection, the cheese is strong and perfect. I enjoy it. Annalisa chooses the dessert and then arrives a giant pan filled with a kind of apple and plum crumble (Kaiserschmarren ). It's just to fall. It will be very difficult to hit the road after that.
We take the bus to advance a little and begin the rest of the hike. The weather is threatening, but the weather is nice and we chained the pretty views and other waterfalls. It's nice to be so, alone in these film landscapes.